TESTIMONIALS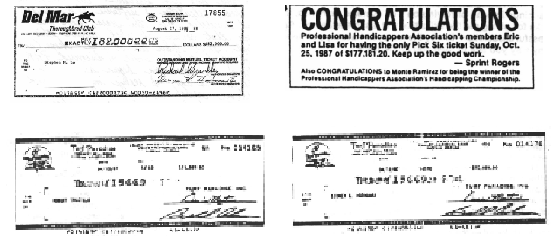 The purpose of these testimonials is not to suggest that everyone has such great results, but to bring to your attention that many have. We can assure you that each testimonial is true and has been written without being solicited by the Professional Handicappers Association.
RECENT TESTIMONIALS FROM SATISFIED CUSTOMERS!
Hello Sprint and Cathy,

My name is Bernard and I have been a big fan of yours for about 5 years now and counting, my girlfriend and I have ordered your handicapping tools several times and we had a lot of success with using your never again, and the webinar.

Anyway, the reason I'm writing you is because I want 2011 to be the best year ever for me and monica winning more money at the races, we will continue to order your services in the new year and my goal is for me and Monica to meet you and Cathy. I really want to thank you in person because you actually help people, you actually care about us making a little money not like most so called professionals who give crappy picks that never come in and they just take your money.

Sprint and Cathy, my long term goal is to start a handicapping club up here in Seattle, and have a affiliate program in place that we refer people to PHA and get incentives for doing so, sometimes I have dreams about me and Monica listening to you and Cathy, learning everything we can and carrying on the great work that you do.

Once again thank you so much for what you do, I look forward to meeting you both, and I hope I can email you sometimes because I still have so much to learn and I know your the best to teaching people how to really find the winners.

Bernard

Being more than satisfied with the never again plan (by the way it also works great on the trotters-first trip to the meadowlands I missed a $3300+ tri because I was just getting my feet wet so to speak, but did hit the exacta for $164.
Thanks again for sharing the never again plan and i look forward to similar success with
miracle wonder -this system is great.. GP

Hi Sprint: I ordered your nap plan a while back and I have been very happy and satisfied with the results. Anthony

I spent the weekend working with your Money Management system and I'm impressed, it is EXACTLY what I was hoping to find. I thought I would trythe Never Again wagering idea. I grew up on horses a long, long time ago and like "Sprint" I have never even been to a track. I got a good laugh
from "Sprint's" first experience in handicapping. You guys put the cherry on my weekend! I've got a way to go before I'll be ready to try out wagering but it shouldn't take too long. Again, thank you for helping me with the computer glitches. You guys are great! I think I am going to enjoy
horse racing. Sincerely, SF

After trialing out on paper with some old race results, I am amazed at just how simple it is to pick real winners. However, I have just some questions to help me understand the system better.

Thanks once again and look forward to hearing from you. Tom A, Australia

Your system seems to be pretty darn reliable. Thanks Ronnie

It's worth mentioning - that book of yours is a godsend. It has helped me understand things that aren't mentioned anywhere else. And sometimes just having a different speed rating than the DRF is enough of an advantage for finding value.
Many thanks, D E

Dear Sprint and Cathy,
By the way, last month I placed a win bet of $40.00 and received a payout $428.00. I simply saw that your selection for speed and class was listed at 15-1 in the morning line so I stopped by the Santa Clara County Fair and placed my wager. It was a nice win. Thank you. T.C.

Hit the Super in Race 8 Bay Meadows on 2/3/00 for a $3,249.20 payoff on a
$1.00 ticket, by boxing your 1st 3 selections (3-6-4) with your remaining
Selections. Not a bad stub. R.S.

Sprint,
Monday at AQU in the 8th race " Parental Pressure" had the top SPR of 116, 2 CLR, and 235 ER. The next best figure was Wild Imagination at 106-1-212. Parental Pressure won at odds of 65 to 1. Thank you for a great day. E H

Your data seems to provide some impressive results.. W.S.

I must say your handicapping numbers have been very good at some tracks and I enjoy using them. Again thanks for the good service. Ro

Dear "Sprint", Recent winners (Halo Missy; Flipforthegold; Mama Ella) bring great joy and $$$ Almost time for renewal- please instruct process! Regards, St.

Dear Cathy, Thank you for your prompt reply. I have decided to renew. I have enjoyed receiving your information and would like to renew for three months. I would also like to say that I have learned a great deal about horse racing from reading your material and watching your video. I am a much more informed player now and find I am not just throwing my money away. Thank you and Sprint very much. Sincerely, Ge

Thanks Cathy for hustling my PHA data renewal clearance! As I expected I had another great weekend with "Head-on" selections going 15/35 for $136.40 (ROI=1.94) highlighted by R9 @ Hollywood "One Hundred Slews" @ $18.20 and R2 @ Hialeah "Sidewinder" @ $41.20. Not to mention the many Exactas! I spent about 30 minutes @ the computer Sun. then went off and enjoyed Mother's day and profited $565 on mostly $2 and $5 wagers! Absolutely Amazing! Regards! Bob

Thanks Cathy, Would you believe I had bets on all 3 (W+EX+TR) in the 3rd @ Hialeah April 10! Off course I only got 100-1 on the EX and Tri and 20-1 on the W but $220 profit easily covers the entire membership. Nice Going. What a ticket head on! $55.20; $404 EX; and $2115.20 TRI!! Congratulations! Bob S

I have enjoyed this past month as my first month of your email selections.
R.L.

So far you are doing terrific and I love races like 6th at hol. for a 106.00 ex. I love the focus that Sprint & Cathy has worked overtime to produce. Keep up the excellent work, the PHA is great looking. From: "Del"

Hi Cathy, I just want you to know I am very impressed and glad I stuck with the PHA.Please keep up the good work. From: "T.D"


Subject: your better ROI
Well Cathy that 7th at the Breeders Cup was the best ROI I've seen in a very long time. Congratulations! From: "C. S."

Nice Breeders Cups selections. From: M.L.


Not bad for a slow day at the races. You should have seen what hooked up with the hollywood horses. The closer at belmont didn't hurt either. Killer day.
We paid for the NEW Grand Marquis LS we bought yesterday. Thanks again. Just in time. Thanks M.L.

You have given me some insight as how to play your "2 horse Win Play". I am a novice horse player an will need some coaching. Thanks Bill

Thanks for some of the "Bombs" (longshots) I think thats the right term today.
Cathy,
Thank you very much. I can see already that all the raves I read about the two of you are true and deserved!
J.W.

Dear PHA:
I am enjoying you program very much, I haven't hit a big one but its accuracy is amazing. Keep up the good work. Sincerely, Sam Jackson

Cathy:
I am delighted with your email service selections, I would be crazy to take up my off time doing even more computer work, when I can come home and enjoy the races with of course, your excellent selections!
Sincerely, M.G

Hi,
You seem to be the best source of honest, reliable information around, and I really appreciate it. I've (and many others!!) been burned by a lot of the junk out there over the years...
Thanks again.Dan S

Dear "Sprint" & Cathy Rogers:
I am so very thankful upon finally finding the real McCoy! let me explain, After checking out dozens & dozens of thoroughbred handicapping web sites, which offered just EMAIL selection services, only turned out to be low favorites, chalk pickers!
Thankfully now after only 3 1/2 weeks with you-all, my phone bet account is on the + side! and I SINCERELY THANK YOU, Sprint & cathy for your handicapping expertise!
I have received & watched your handicapping video,& really enjoyed your down-to-earth style, in fact it summoned up old memories of my grandpa & uncle taking me to old Liberty Bell Park, and respectfully telling me about the legendary old Dan Patches 1:55 pacing mark, & greyhound, & others standard bred legends.
Those were great day,& now with your handicapping expertise gives me the chance to play more than one track profitably, which I other wise couldn't get time for every week. Great work ,Sprint & Cathy, par excellence!
SINCERELY, Mel

Sept. 8,
Hi Sprint and Cathy,
My oh my what a wonderful day!!! What can I say? The program Kicked-butt this sunday!!!! Especially at Del Mar, too bad the meet is ending in two short days... Ya know, I've been doing a study on which of these races the selection report is the strongest, I've found routes in the claiming and especially stakes and Hcp. races to be very powerful. You know I was happy to see 4 races selected in these specific categories. All four won!!! Also, the other selection ran second filling the exacta nicely.... :-)
Well, I guess I'll close for now, Just wanted to share a thank you note toward the both of you. Once again..THANK YOU !!!! YOU BOTH ARE THE BEST !!!! BILLY

Dear Cathy and Sprint: My wife says thank you for the great week that you had. She is smiling like the cat that ate the canary. She had that 57.50 horse at Saratoga and the exacta.Del mar was ok too. She had a couple of good exactas and the late double monday. She wants to know who gave you the right to steal at calder? Thank you both.- A. and M




Thanks for your wonderful service. I won double the cost of my new membership in only 3 days playing only 2 & 4 dollar win bets. Hope that this continues. Thanks for all you have done and look forward to much success in the future. - G. N.

By the way - - I too hit those great payoff on Sunday and Monday. A.D.

I received the benefit of the longshots you mentioned last week - J.D.

Sprint" and Cathy Rogers: I also must congratulate you both on the astute handicapping to date. - R. S.

Hi - This certainly was a good week. Not only did you pick many winners, but you had some excellent Exactas like Score a Birdie & Victor Coolie today. - L & E

Sprint and Cathy
Bob and I won the Twin Tri last Sunday. It would seem that taking your course has more than paid off. We didn't spend that much to do it ! We keyed the 1 with the 5,7,8 keyed the 8 with 1,5,7 and keyed the 1 / 7,8 for a cost of $28.00. The two excahanges paid $286.20 each and there were 21 exchanges. In the sixth we played 9,8,3 and 9,3,8. The pool was $41,234.20 and we had the only ticket. There were favorites which didn't figure such as the 2 and 4 in the Fifth and long shots that had to be played such as the 7 in the fifth and the 8 in the sixth. At any rate, I enclose a copy of the checks (we have on file) so you may use it if you want in your presentation. It was a good day without this - seven winners, the Double and the 11th race Tri.
Sid and Bob

Dear "Sprint" Rogers:
I am writing to tell you how deeply pleased and grateful I am for all your help and teaching during the past few weeks. I have been a handicapper for seven years. But I never thought it possible to obtain the kind of results I've been obtaining since I started taking your handicapping course. It is truly amazing! During the past few years I've tried or seen just about everything published on beating the races. And I want to tell you, although some had some worth, there is nothing I've seen that even comes close to your method. I don't know how I got along without it all these years. If more people would realize that handicapping is a logical and intellectual pursuit with sound principles there wouldn't be such vast numbers of losers at the track. Personally, though I'm hoping that word of your course does not spread too far, since I'm certain that if sufficient numbers start handicapping with your methods that the prices at the rack will severely suffer. I would unconditionally recommend your course to anyone who has the desire to study and practice the skills necessary to succeed in this the most difficult of games. There just isn't anything that is worthwhile in this world without effort. And those that wish to work at this business in the correct way and reap the benefits would do well to follow your teachings instead of relying on wild systems, hunches, the stars or whatever. Again thanks for giving me the skills that will last me a lifetime. And I look forward to our long and successful association. Oh by the way, you have my permission to use my name and this letter in any way you see fit. See you at the track.
Chuck, M.D.

Dear "Sprint" and Cathy:
The Professional Handicappers Association class has given us the opportunity we have been dreaming of. We have learned a wealth of information and, along with it, able to have fun and come out winners. Our earnings isn't, of course, deposited in Chase Manhattan Bank, but Money Management has taught us NOT to bet every race, just wait for the win. Just this last Saturday we played a Pick-Six ticket and we hit five. We have played the Pick-Six ticket twice now and have hit five out of six each time, and we are very happy on the return on our money. We do our homework during the week and wait for the best races on the weekend, usually Sunday, and so far our gains have been more than our losses. Again, we want to thank you both for the lovely day at the track. We enjoyed ourselves immensely, and waiting for your arrival in the Seattle area again. We really appreciate all of your hard work and dedication. You have made us believers of the Professional Handicappers Association program. We are especially proud to be a member of your team. Thank you again for helping us better understand the field of Horse Racing.
Dennis & Kathy

I would like to take this opportunity to let you know how very pleased I am with the course. It has exceeded all my expectations as you certainly didn't misrepresent. - Angie

Dear Cathy,
Just want to thank you and "Sprint" again for all you've offered and being so patient and helpful with my follow up questions this past week. Like the old saying goes, "when the student is ready, the teacher appears" surely holds true with all you've shared through your instruction. As I told you, I've been searching for over ten years for someone to show me how to put all the pieces together and make this game I love so much, a consistently profitable and fun experience. All the books, methods, calculators and software I've bought and researched over the years, gave me hope that someday I could achieve this goal. But that's all it was - hope ( and a lot of frustration), until I discovered PHA. Since my association began with you six months ago, I realize my long and arduous search is now over. By developing and generously sharing your crown jewel The Ultimate Oddsline, I truly feel you have put me in the driver's seat to becoming an independent pro. I am forever grateful and indebted to you both. I'm currently fine tuning my skills based on all the knowledge you've presented and look forward to reporting my successful results in the very near future. Until then, all the best to you and "Sprint" .
Sincerely, Paul

Hi Cathy and to you "Sprint";
The program runs like lightning. I think that you should just send the users names to the tracks (like today at Calder) and have them sen the money directly to us. The program is really doing great! Satellite Nealski just paid for my new Dell Computer set up. ....plus the rest of the goodies - Thank you. Marshall and Avis

AND HOW ABOUT PICK SIXES !
Partial Ad taken from Daily Racing Form .
Congratulations - Professional Handicappers Association's members Eric and Lisa for having the only Pick Six Ticket at Santa Anita for $177,181.20.
Here's Another Nice One !
have my permission to use this in your advertising by me and my racing partner. - O.Y. - California.
above testimonial was accompanied with a copy of a canceled check No. 17855 from the Del Mar Thoroughbred Club for the amount of $182,000.00.

Dear "Sprint" and Kathy:
This letter is to let you know how very happy, satisfied and amazed I am with your system. Since the 23rd of July (my first day using your system), I have averaged 6 winners per day. 23rd - 6 of 10; 24th - 7 of 9, as far as exactas are concerned out of 19 invested I have won 15, this by boxing a maximum of 3 horses. I have had seven exactas where I only had the first and second picks by the system. This is the first time in the last ten years that I am a consistent winner day after day. Of all the numerous types of handicapping I have tried and discarded, your is by far the very best and will last me a lifetime. Once again thank you for giving me the skills to be a constant winner and I look forward to a long and successful association. You have my permission to use my name and this letter in any way you see fit, I will even have this letter notarized if you wish. - Alain F.

The purpose of these testimonials is not to suggest that everyone has such great results, but to bring to your attention that many have. We can assure you that each testimonial is true and has been written without being solicited by the Professional Handicappers Association.
Click BACK on Tool Bar.